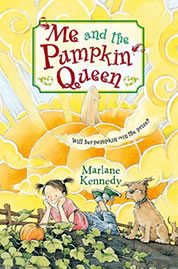 Me and the Pumpkin Queen
by Marlane Kennedy
Ages 9-12 | Hardcover: 192 pp
HarperCollins (July 3, 2007)
ISBN-10: 0061140228
ISBN-13: 978-0061140228
"It just so happens my thoughts are consumed with something out of the ordinary."
—Mildred
Mildred is a very focused eleven-year-old. Very focused on giant pumpkins. She's growing the giants for her mother, who never got a chance to enter the Circleville, Ohio, Pumpkin Show weigh-off herself. After four disastrous growing seasons, Mildred is hoping to finally have a flawless pumpkin to enter in the contest. As long as busybody Aunt Arlene doesn't interfere too much…and Daddy doesn't need too much help at his veterinary practice…and her best friend Jacob can pitch in with some last-minute help…and the dogs don't trample the seedlings…and the weather cooperates.

Readers will be rooting for Mildred and her pumpkin—a certified Howard Dill's Atlantic Giant.
A paperback edition is forthcoming
from HarperCollins July 28, 2009.