School Visits with Marlane
I'd love to visit your school! I have two PowerPoint programs available. Both are suitable for either large assemblies or small groups.

Get a Clue!
Get a Clue! is about the importance of research.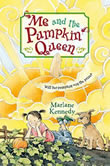 I discuss how I was able to write about a subject I knew very little about — giant pumpkin growing — through the use of internet, books, and working with an expert in the field. Fun slides from a giant pumpkin patch and also from the actual setting of Me and the Pumpkin Queen, Circleville's Pumpkin Show festival, are shown. All students will receive an Atlantic Giant seed of their own at the conclusion of the program.
Get Real!
Get Real! is a discussion of turning real life events into fiction.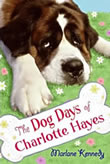 I use the writing of The Dog Days of Charlotte Hayes as an example of how this process works. The importance of conflict and character development will be covered. Slides of my childhood dog that inspired the story will be shown. Each school will receive an adorable Yomiko Classic plush Saint Bernard to either raffle off as a fundraiser or hold a drawing for.